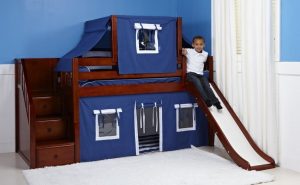 Are you planning to put two kids into the same bedroom in your home? If so, you could go out and buy them two separate beds to sleep in. However, you may want to consider bunk beds instead. Bunk beds are a great option for kids, and most kids love having them in their rooms. Here are a few of the reasons why you should consider bunk beds for your children's room.
Bunk beds will save space.
If you have two kids in the same bedroom, there's a good chance that space will be hard to come by if you provide them with two separate beds. You can save a significant amount of space by going with bunk beds. Bunk beds will allow you to use the space you've saved for a desk, an extra dresser, or even just more floor space to play. As your kids grow, you will want them to have enough space, and bunk beds will allow them to have it.
Bunk beds will provide your kids with defined spaces.
When you have two kids in the same bedroom together, you need to find ways to allow them to have their own individual spaces. Bunk beds do it by giving them space to lounge, read, or even just have a few minutes to themselves. Regardless of whether they occupy the top or bottom bunk, they will have space that will be just for them that they won't have to share with their roommate.
Bunk beds have many advantages.
These days bunk beds are not the same as they used to be when most of us were kids. Today, many have storage, built-in-desks and even slides and steps. Whether you have a boy or a girl, there's a bunk bed that will suit your child and can be configured to meet your needs.
If you are thinking about buying bunk beds for your kids, One Ten Home Furnishings can provide you with plenty of options. One Ten Home Furnishings has over 8,000 sq. ft. of kids' and teens' furniture and mattresses.